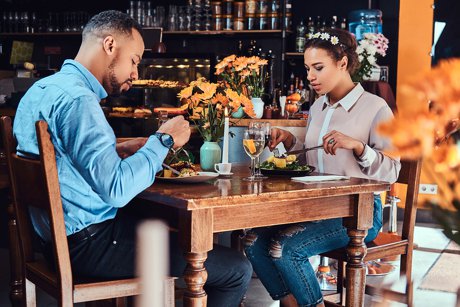 Downtown Durham real estate overflows with deliciousness. A plethora of restaurants, cafes and eateries tempt all types of appetites. From dine in dinners to grab and go snacks there's something to satisfy every culinary need.
When coffee cravings are on overload skip the chains and head on over to Cocoa Cinnamon. Independently owned, a warm atmosphere welcomes customers. Coffees, teas and cocoas are rich, bold and wonderful. Those with no time to linger over their mugs love the ease of the Carrboro Coffee Roasters pop up coffee bar. Located over on Main Street and open weekdays from 8 a.m. to 2 p.m. this convenient locale offers a variety of coffee drinks, espresso and non-caffeinated beverages.
Travel the Tastes of the World when Living in Durham
Take taste buds on a trip around the world without ever leaving the downtown Durham real estate area. Neapolitan pizza pies are served hot and tasty and Italian style at Pompieri Pizza. Homemade gelato tops off tasty meals. Friends raise toasts and break out in impromptu Irish jigs inside Bull McCabe's Irish Pub. Dishes with an Asian flair impresses diners at M Sushi and Thai @ Main Street. Journey over to Blackwell Street and find a lively vibe at Cuban Revolution Restaurant and Bar. Here an open air kitchen shows all the behind the scenes action of classic Cuban meals in the making. Cross the border into Mexican food heaven and step into El Rodeo Mexican Restaurant.
Kick back and dine casual at Parker and Otis. This little eatery features an impressive gift gallery filled to the hilt with unique presents perfect for any occasion. It's A Southern Thing prepares mouthwatering dishes like mama used to create deep in the South. When the game is on the gang hangs out at Devine's Grill and Sports Bar. Cheers and jeers mix with laughter and groans from sports enthusiasts living in Durham. Close by BBQ is "slow cooked, smoked fast" at Maverick's Smokehouse and Taproom.
Whatever cravings call for, satisfaction is sure to be found in Durham. With so many restaurants and eateries in the region the hardest question to answer will surely be, "What's for dinner?"